---
Since 1986 READ Pinellas has been providing literacy services to adults in Pinellas County. READ Pinellas promotes a world in which everyone can pursue a quality education, reach their full potential and contribute to our community and the globe. We work in collaboration with individuals and organizations across Pinellas County to develop literacy programs and a habit of reading among all ages to help them achieve the life skills they'll need to succeed in school and beyond.
Our Mission
The mission of READ Pinellas, Inc. is to increase adult literacy in Pinellas County by coordinating resources, increasing awareness and involving the community in this effort.
Our Board Officers
The READ Pinellas board is made up of passionate individuals with a breadth of experience that ranges from classroom education to leading nonprofit organizations. We have a strong foundation that combines business principles from the private sector with best practices and ethics from the educational and non-profit sectors.
President – Anne Morgan
Secretary- Jennifer Harrington
Treasurer- Jan Setzekorn
President's Report
Success Stories
Clearview AEC Sep Oct 2020
Click Here to download the Clearview AEC Sep-Oct 2020 Newsletter
Intercultural Advocacy Institute Project
Click Here to download Jewelry and Craft Project 2020 READ PowerPoint.
Congratulations to the Literacy Council of Upper Pinellas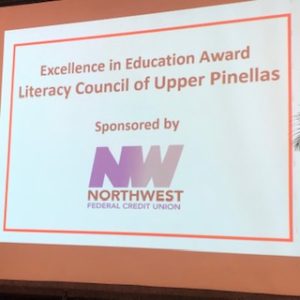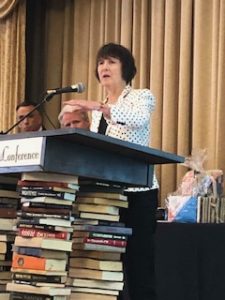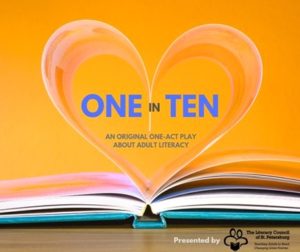 We are so proud to announce:
"One in Ten" a one-act play written for the Literacy Council of St. Petersburg by local playwright, Andy Harrison.
Charlie, a happily married man with a decent job, has been able to get by in life with his ingenuity. His wife, Elsa, works longer hours and worries about time lost with their young daughter. While Elsa waits anxiously for news about Charlie's job promotion—and more money—something frightful happens that no amount of ingenuity can cover up.
Andy Harrison's one-act play is a mere snapshot of the many consequences of illiteracy. This local, aspiring playwright generously volunteered his time and talent for the project after being introduced to the pervasive problem by the The Literacy Council of St. Petersburg.
The title reflects the number of adults nationwide who cannot read or write beyond a 3rd grade level.
The play is a fundraiser for the Literacy Council of St. Petersburg and also a way to mark our 50th year of providing free tutors for adults with low literacy skills in our community. We are proud and honored to be a 2019 SunLit Festival event.  Download Flyer
Friday, April 26th
Sunshine Center
330 5th Street North, St. Petersburg, 33701
Doors open at 6:30. The play begins at 7:00.
Beverages will be available for purchase.
Tickets may be purchased in advance or at the door. Seating is limited.
DHAEC ESOL Talent Show
The DHAEC ESOL Talent Show, "Immigrants Have Talent", was an amazing community building event. On Thursday, March 28th, the DHAC ESOL students and their families, teachers, and Read Pinellas members came together to enjoy a show, exhibitions and craft demonstrations presented by representatives from five continents. The international event was a showcase of about 20 different cultures and traditions. Moreover, it was an excellent opportunity for the students to work as a team developing their English skills and creating a very emotional experience for everyone present. "Immigrants Have Talent" is an annual event. This was the third and probably the most emotional. As a result, the ESOL community has become more united and connected. Thank you, Read Pinellas, for the generous grant that enabled us to prepare for, have sound and light equipment, better exhibition designs, and craft supplies as well as special certificates for each participant. By DHAEC ESOL and Lead Teacher Inguna Ozols.
One student's comment about the event: "I am so grateful to you for this day.  It was very emotional.  It was filled with life and that made it different from many others.  In addition to English at school, I can learn other things like to accept people as they are, accept me as I am; just love people."
Congratulations to READ Pinellas Board Member, Jennifer Harrington, on her recent Florida Adult Community Educators state Teacher of the Year honor!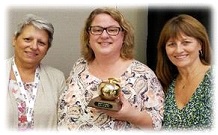 From left: Jeani Chua, DHAEC GED Teacher, Jennifer Harrington, and Brenda Vlach, DHAEC and CVAEC Administrator.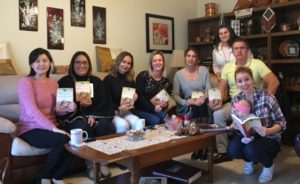 READ Pinellas provides opportunities for teachers to offer innovative programs and meet student needs. This adult ESOL book club is comprised of a multicultural mix of adult ESOL learners who are motivated to improve their English literacy through reading and group discussion. In achieving a higher level of literacy, some of them wish to take the TOEFL and continue to the university, while others desire jobs in their professional areas of expertise. With improved English, all hope to acclimate better to the society at large. Those who are parents wish to better assist their children in school-related assignments and interactions.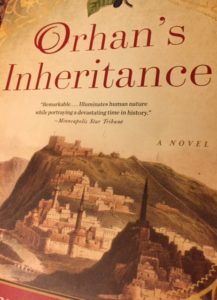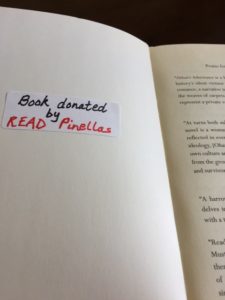 DHAEC GED SPC GIBBS CAMPUS

"New Year, New Books! READ Pinellas has awarded me with a grant to update our class library at SPC
Gibbs Campus. The grant allowed me to purchase current young adult novels that a popular online
merchant has rated as the best of 2017. I believe the more students read for pleasure, the more fluent
they become. Care was made in making sure the selection contained a variety of story types. Book
plates were created to recognize the contribution of READ Pinellas."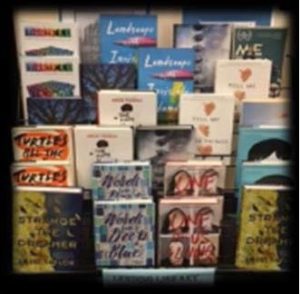 Karen Carr, DHAEC and SPC Gibbs Campus GED Teacher
---